YOU KNOW YOU'RE A HORSE PERSON WHEN:
You know what hay in your underwear feels like.

You love a clear night and a full moon because it makes it sooo much easier to find a horse in the pasture.

You know the difference between a 'hot' electric fence, and one that's set on "hoof-melter," based on feel.


You'll drop $80 on shoes for your horse...but buy yours at Goodwill for $2.50.

You use your garage to store jumps because your truck won't fit.


You've ever walked thru a pasture in high heels during your lunch break to check on a horse.

You accidentally clean your bathroom with Leather New because you think it's orange cleaner.

You remember a horse's name better than a person's.

You've ever used a - screwdriver, scissors, sweat scraper, other horse shoe... - as a hoofpick.


You can't drag your butt out of bed at 6am to go to work, but you leap out of bed at 2:30am with a smile to go to a horseshow.

--Bits of wisdom from Amy Nelson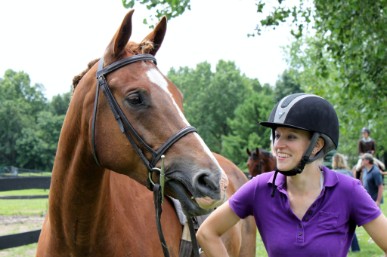 The difference between an inexperienced rider and a bad rider...is the inexperienced rider will ask a horse to do something in a way he does not understand, and forgive him when he does not perform. The bad rider will do the same and get angry.
--Amy Nelson

The second you tell a potential buyer, "this horse has never been lame," the horse will go lame for the first time.

You've used a potato scrubber or your daughter's toothbrush to clean bits the night before a horse show.

Your favorite part of your phone is the "flashlilght app" - it's been used for roofing barns, finding horses in the pasture, helping hook up a trailer...

DO YOU HAVE A BIT OF HORSE WISDOM??
EMAIL US NOW! IT COULD MAKE IT ON THE BOARD THIS MONTH!