Hummingbird Show Horses - For Sale
Please check back regularly for updates and new horses for sale!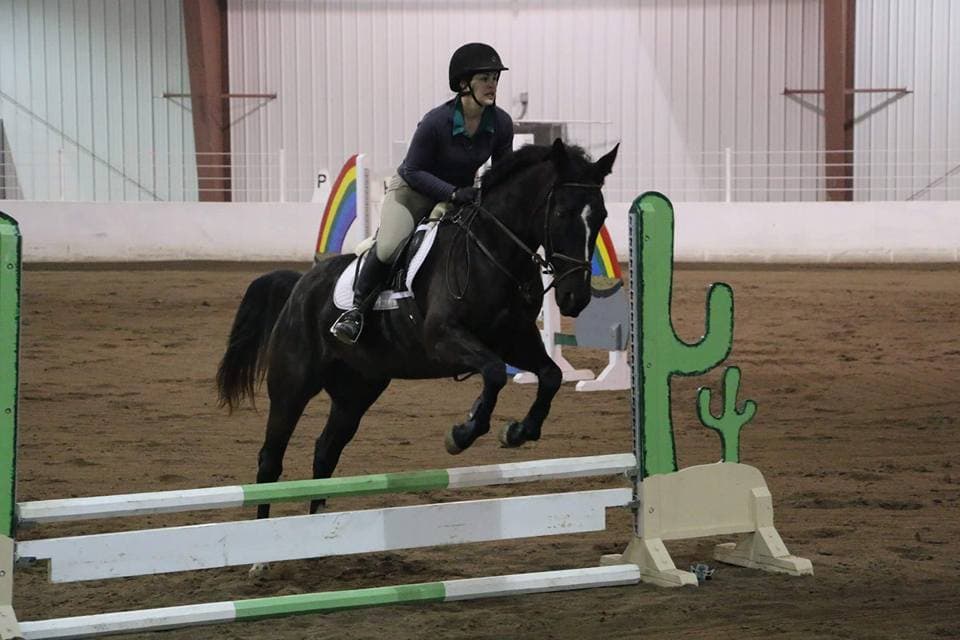 SOLD!! Han D Luna - "Luna"$300015.2hh
Registered Appaloosa Mare
Luna is a sweet, registered black appaloosa mare with show experience who is ready to go in any direction. She has done low level eventing, hunters, and jumpers, along with trail riding. She is always in the ribbons!Han D Luna would be perfect as a move up horse for a young rider, or for an adult amateur looking to clean up in hunters or low level eventing. She could easily go to Novice or better with time. She has 3 correct English type gaits, and is a push ride with excellent brakes. She does have the enthusiasm to be a super safe event horse, or possibly fox hunter/endurance horse. She goes through water, jumps natural obstacles up to 2'7" with the scope to go higher.
Luna has been ridden by an adult amateur for several years, while concurrently in a training program. Luna does best with a confident beginner or advanced beginner who can quietly jump a crossrail course (she is honest but not a babysitter at this time).
Loads, ties, stands for farrier. Barefoot and easy keeper!
Email for video.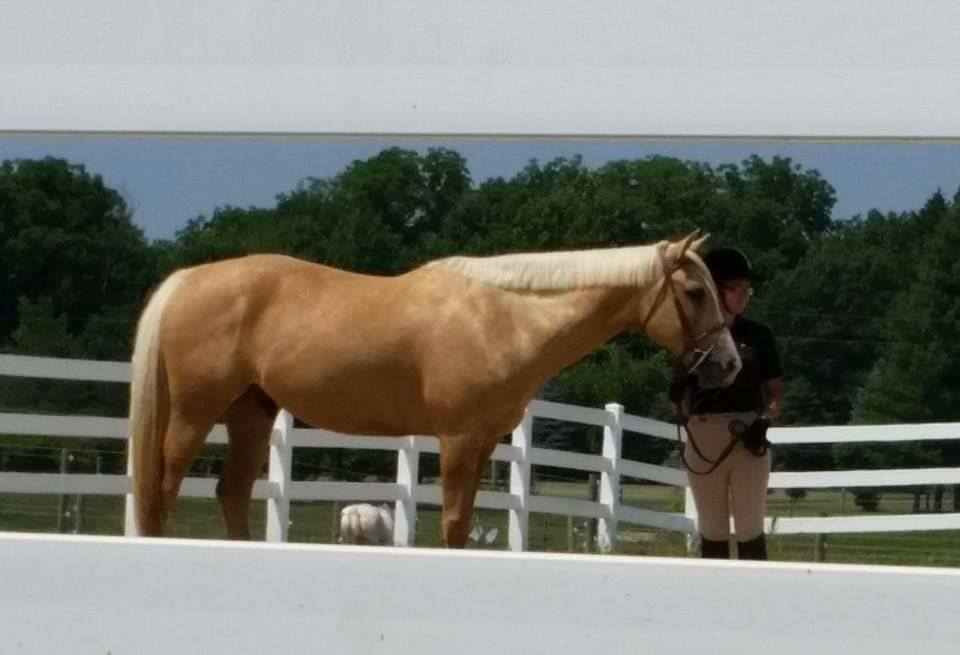 SOLD - Goliath's Boy "Goliath"


$2500


16.1 1/2hh Appendix Gelding
2005 Model
Goliath's Boy is a 2005 16.1+hh, big boned non registered palomino appendix gelding. He has done a little bit of everything - English/Western, jumped up to 3'3, always ribboned in starter level eventing, done trails, halter, trail obstacles, giant soccer ball, 4H, etc.

He has done miles of trails, shown at the State Fairgrounds, ridden bareback and double.

**His heart is NO LONGER IN JUMPING** so he is looking for a flat only dressage type home.

He prefers a rider with a gentle nature. Goliath is barefoot, easy to catch, and stands quietly at the mounting block.



He would love to be a trail horse, dressage, camping horse, a grandkid/4H horse, 3rd flight fox hunting, or leadline.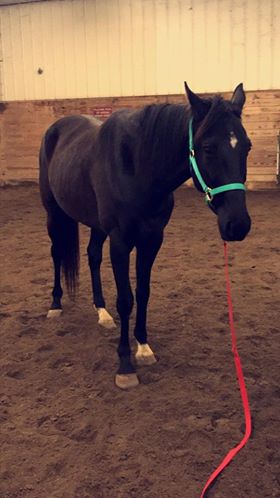 SOLD - "Quincy"
JC : How About a Waiter


$3500-SOLD


16.2hh OTTB Gelding
2010 Model
$3000-price reduced!


Quincy is everything you would want in a future eventer or hunter/jumper. He's Tall, Dark, and Handsome. He is an elegant mover with a good foundation and ready for you to finish your way!

Quincy is suited for a professional or intermediate/advanced amateur in a strong riding program.

Quincy will finish 60 days of training at Hummingbird Stables on 4/28/18 - make an offer before then! He will finish his training and be ready for you to continue training at home.

Quincy loads, leads, stand nicely in crossties. He lunges well in both directly. He works well under saddle in a frame.

Quincy needs a strong leader as he can be spooky sometimes. He is a mild cribber and a windsucker, but with regular turnout and access to free choice alfalfa the cribbing is almost non-existent.

Quincy was owned by a beginner since 2017 and has developed some bad habits under saddle because of it. We are working on this and he has come so far in a short time that we are confident he will be an excellent show horse in no time. But this is why he is NOT for a beginner.

He came to Hummingbird Stables a bit underweight with little muscling, so his behavior under saddle reflects this. He has put on pounds already and each day his attitude improves. He has a great work ethic and loves attention. He would do best in a show home with a regular program as he loves to have a job!

Video can be found here found here: https://www.instagram.com/p/BhIHY5Tl0z7/

New video posted soon!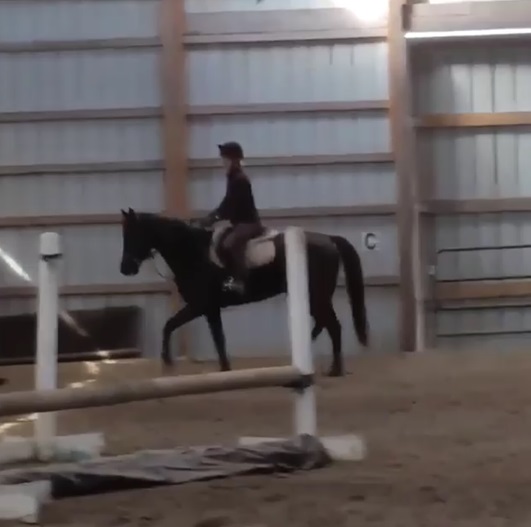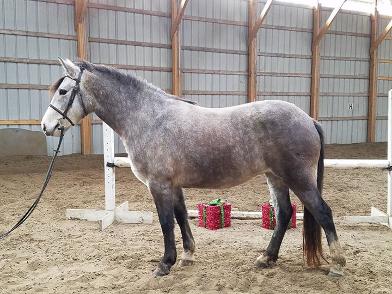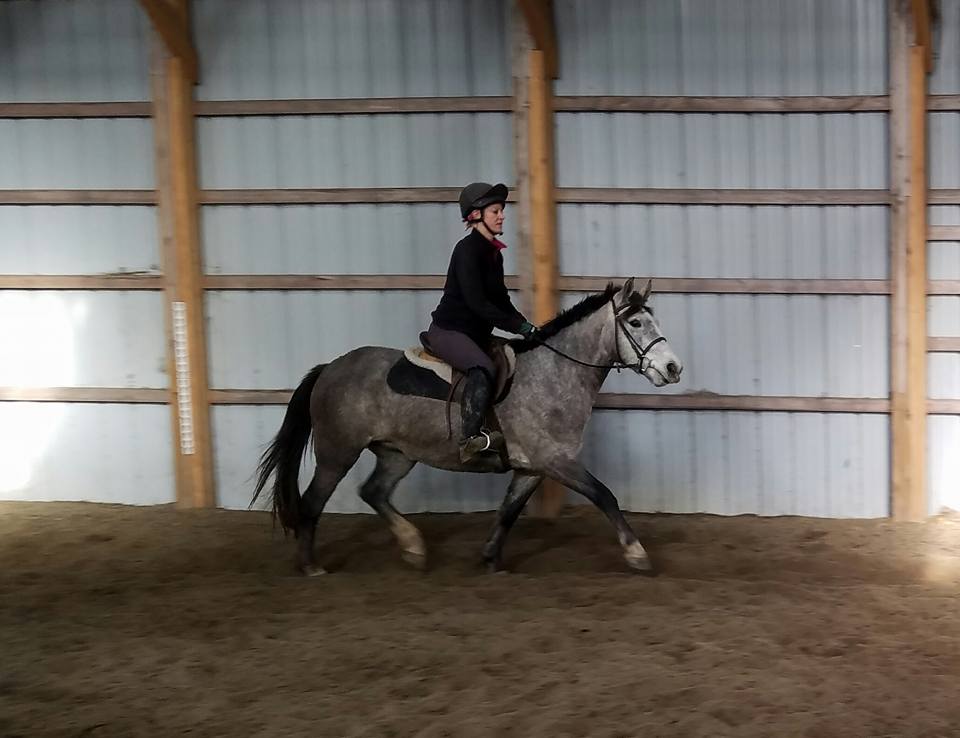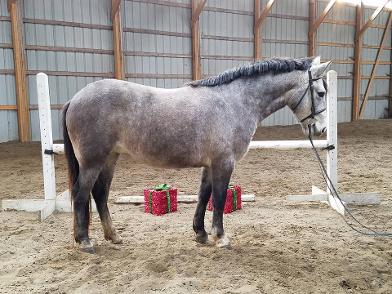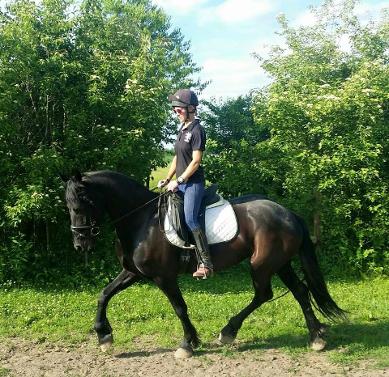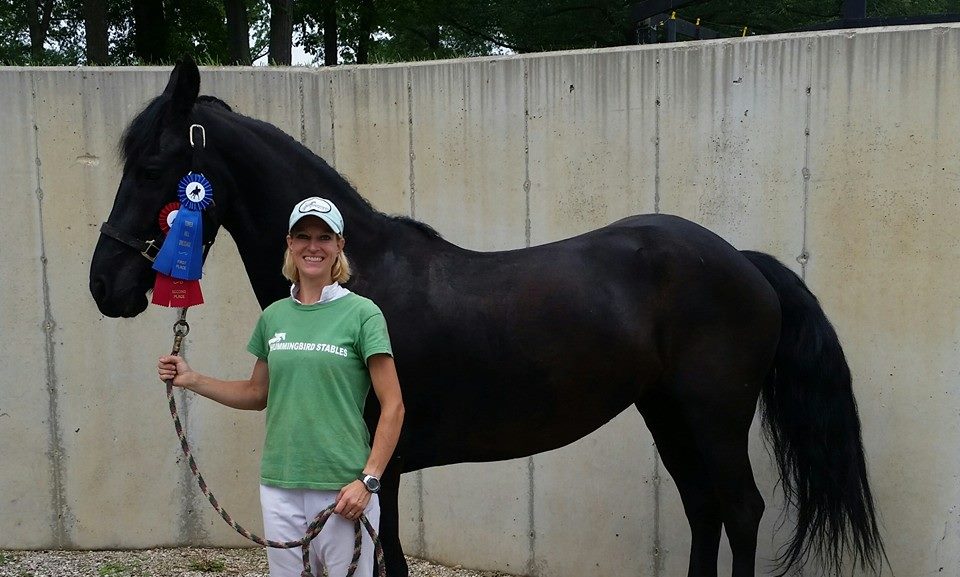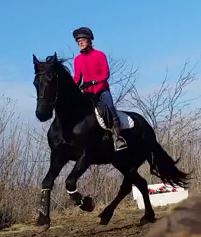 For Sale - "Tayah"
SOLD! Congratulations Jenna H.!



$1500


13.3hh Mustang/Quarter Horse Cross
2014 Model
Adopt Tayah! 2014 Mustang/QH cross. Approx. 13.3hh but not been sticked.

Would do best with advanced beginner or better.

Would make an excellent kid's pony, pony club, 4H, Hunter or low level eventer with trainer guidance. Currently owned by Crosswinds Equine Rescue and training being donated by Hummingbird Stables until she's adopted.

She has a Connemara/Andalusian look without the pricetag. Was rescued from auction by Crosswinds Equine Rescue January 2016 and loved on by a team of volunteers ever since. Came to Hummingbird Stables for training and finishing. Tayah has good basics, ground manners, loads and ties, and easy to ride in spite of her age.

Started over poles, and loved to jump the creek in her pasture although she has not been asked to jump with a rider due to her age. She has a good brain and a quiet demeanor.

Super quiet and 3 easy gaits. Has been ridden by students w/t/c first time on her with correct leads! She is easier than horses twice her age!

Negotiable to the perfect home with adoption application. Cute as a bug and easy to handle. Super easy keeper. Inquire at Hummingbird Stables, Rochester, IL.
Victina
SOLD! Congratulations Valerie L.!

$11,900

15.3hh Registered Friesian Mare
2006 Model


Victina was a 1st premium, grand champion filly at her keuring in 2006. She was shown at a keuring in 2010, and won the hon or of 3rd Premie!

15.3hh solid black Friesian Mare

Victina has strong potential for ster.

She is a friendly, sociable mare who loves attention and has a calm temperament. She has elegant conformation and is a lovely mover, with a reaching extended walk and a floating, effortless trot.


**Rides bareback and bridleless!


**Trained for MOUNTED MEDIEVAL GAMES

Drop your reins and canter - mounted archery
Use a lance or sword while riding
Costumed medieval reenactment training
VIDEO COMING SOON



Victina has been in professional training since November 2014.
Victina's sire, Olrik, is an approved stallion who has excelled in both driving and dressage. At the 2005 Stallion Inspection, Olrik received a 1st premium and was awarded the highest score for trot and canter in appearance and for trot in performance. Olrik's sire is Jurjen 303.
Victina's ster dam, Zabriena W, is an elegant, modern-type mare with lovely conformation and a very pleasing temperament from the prestigious stam 2. Zabriena's sire is Jakob 302.

Victina is only for sale because her owner had a bad ladder accident and has been told he can never ride again.

Victina just completed a keuring in September of 2015. In the largest keuring in the entire United States, and extremely careful judging, she managed to earn a 3rd Premie rating! She demonstrated a nice walk, striking trot, a noble head, and many other qualities the judges were looking for in a quality Friesian mare to go in the studbook.

Victina has show experience and is a ribbon winner in lower level dressage. She is easy to handle on the ground, loads, crossties, lunges, and bathes. She has been ridden in open fields and on trails alone. She comes when her name is called in the pasture!
She has a gorgeous flowing mane and tail, and feathers.


She would make a lovely family horse or broodmare. Could do breed demonstrations, costumed events, or parades with some experience. But she's been ridden around construction, dogs, tractors, heavy equipment, and does well in new situations.


Serious inquiries only. Video below.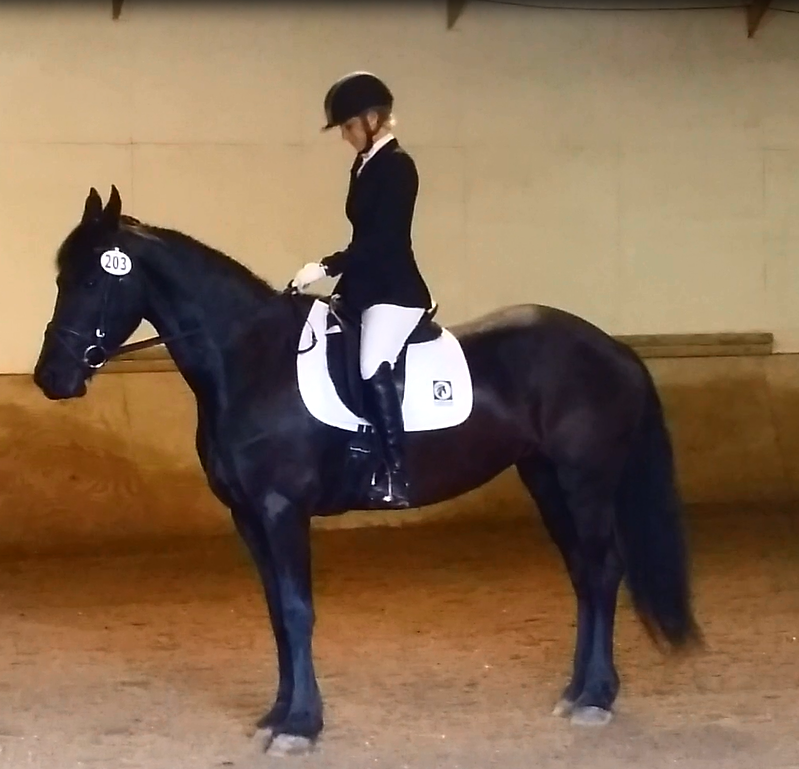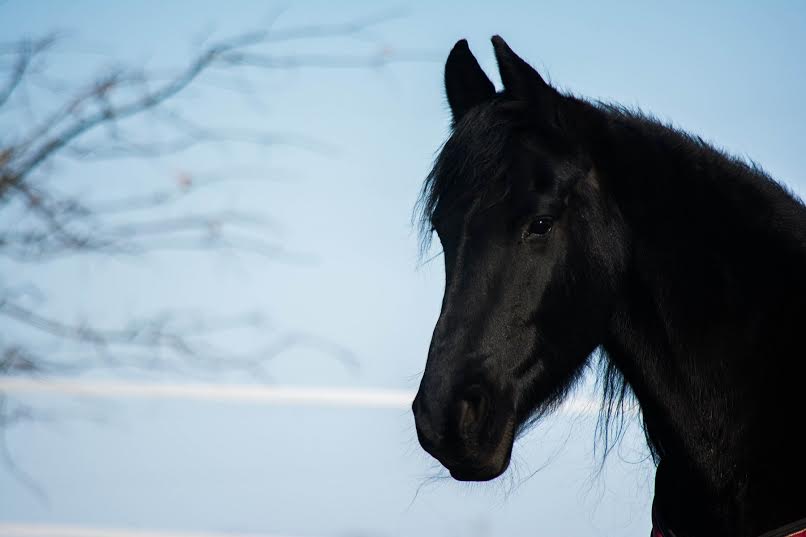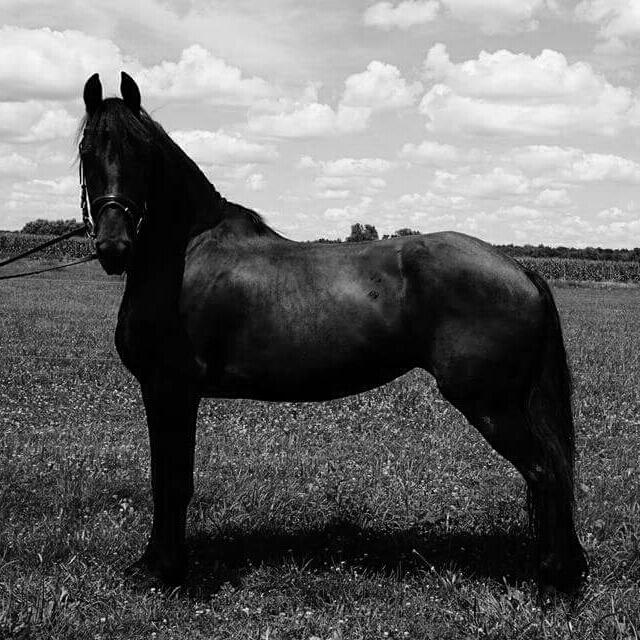 2015 - Victina Showing Dressage