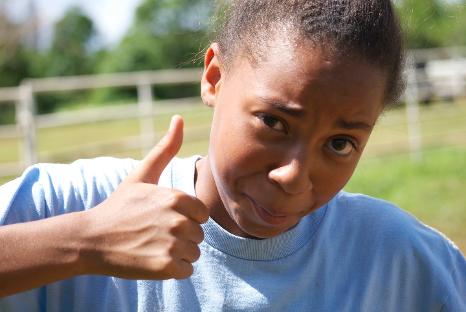 In April of 2013 I made a trip to Guam, USA in the South Pacific...and had the most wonderful experience! Before I left for Guam, I'm embarrassed to say I could not have pointed it out on a map, nor did I know that Guam is a US Territory in the South Pacific, home to a US Air Force Base, Naval Base, and the most welcoming people you've ever met. I got the opportunity to visit Rock & Rail Ranch, in the town of Yigo, Guam (pronounced 'zhee-go') - and help teach the students there and train horses. If you're ever in Guam, stop in to see Charlene and Alyssa. You would be amazed at the talent of horses and riders that can be found on an island that's only 10 miles wide and 30 miles long. Many of the horses were imported to the ranch from the mainland, or bred on the island from the talented jumper/dressage horses that were imported. But there's one particular "boonie pony" (local island grade pony) that found a special place in my heart. His name is "Bogart." :) He had never jumped before I was there. I think he's got a future in pony jumpers now...if we can bring a horse show to the island! Below are just SOME of the pictures from the trip.
Check out the ranch - http://www.guamhorsebackriding.com/Visiting-Trainers.html
Check out their facebook - https://www.facebook.com/allyssa.bernhardt.3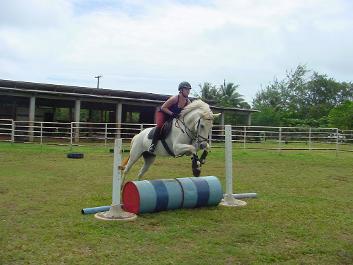 Teaching in Guam 2013. Allyssa does her first full jumper course EVER - riding Corazon. They did great!
I always tell jumpers - it doesn't always have to be pretty. Just "get it done." And she certainly did!

Click the picture to see the video!

See a video of training/teaching...thanks Maddie! I'm the one on the ground in pink...and the one on the pony jumping (and he decided to lay down at one point with me on!)